Psychological and Demographic Predictors of Plastic Bag Usage in the UK
Research has identified people's motivations for making pro-environmental choices, but little is known about the people who continue to frequently buy plastic bags despite the charges bought in to deter people. To add to this, measuring environmental behaviours using self reports can lead to misrepresentative and biased data.
As an answer, N/LAB has harnessed millions of retail transactions to better understand the drivers of plastic bag consumption in the UK, and to inform future government interventions for reducing single-use plastic.
Short Summary
Despite the success of plastic bag charges in the UK, there are still around a billion single-use plastic bags bought each year in England alone, and the government have made plans to increase the levy further. But will this help reduce plastic bag consumption? And what are the main drivers of plastic bag buying that policy makers should be targeting?
In this project, we harnessed over a million loyalty card transaction records from a UK retailer linked to a personality questionnaire to investigate 13,00 individuals' bag buying behaviour. In the data we identified 2,326 frequent bag buyers. We then built a predictive model to better understand what demographics and personality traits predict regular plastic bag buying in the UK.
Online surveys were sent to 80,000 members of the UK retailer's internal consumer panel. The questionnaire had questions about demographics, shopping motivations, and a personality questionnaire. There were just under 13,000 responses that could be matched to participants' loyalty card purchasing data.
Firstly, the plastic bag purchasing behaviour of the sample were analysed, and descriptives produced.
Subsequently, frequent single-use plastic bag buyers were identified in the data. Frequent bag buyers were then matched to non-frequent bag buyers to produce a balanced sub-sample (N = 4,652) . This sub-sample was used to train and test different predictive models. The most accurate model, a logistic regression with turned hyper-parameters, was then interpreted to understand what were the most important predictors of plastic bag buying in the UK.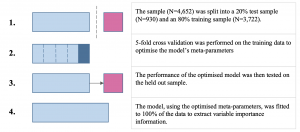 For the nine months following the introduction of bag charges in the UK, plastic bag purchasing fell
The holiday season around Christmas showed a substantial spike in plastic bag consumption
Bag buying was less prevalent in the South of England compared to the rest of the UK
18% of the sample were identified as being frequent plastic bag buyers
Frequent bag buyers were younger, male, less frugal, and higher in the personality trait openness to experience.
Interestingly, self-reported environmental concerns did not predict plastic bag consumption.
Psychological and demographic predictors of plastic bag consumption in transaction data
Despite the success of plastic bag charges in the UK, there are still around a billion single-use plastic bags bought each year in England alone, and the government have made plans to increase the levy from 5 to 10 pence… [more]